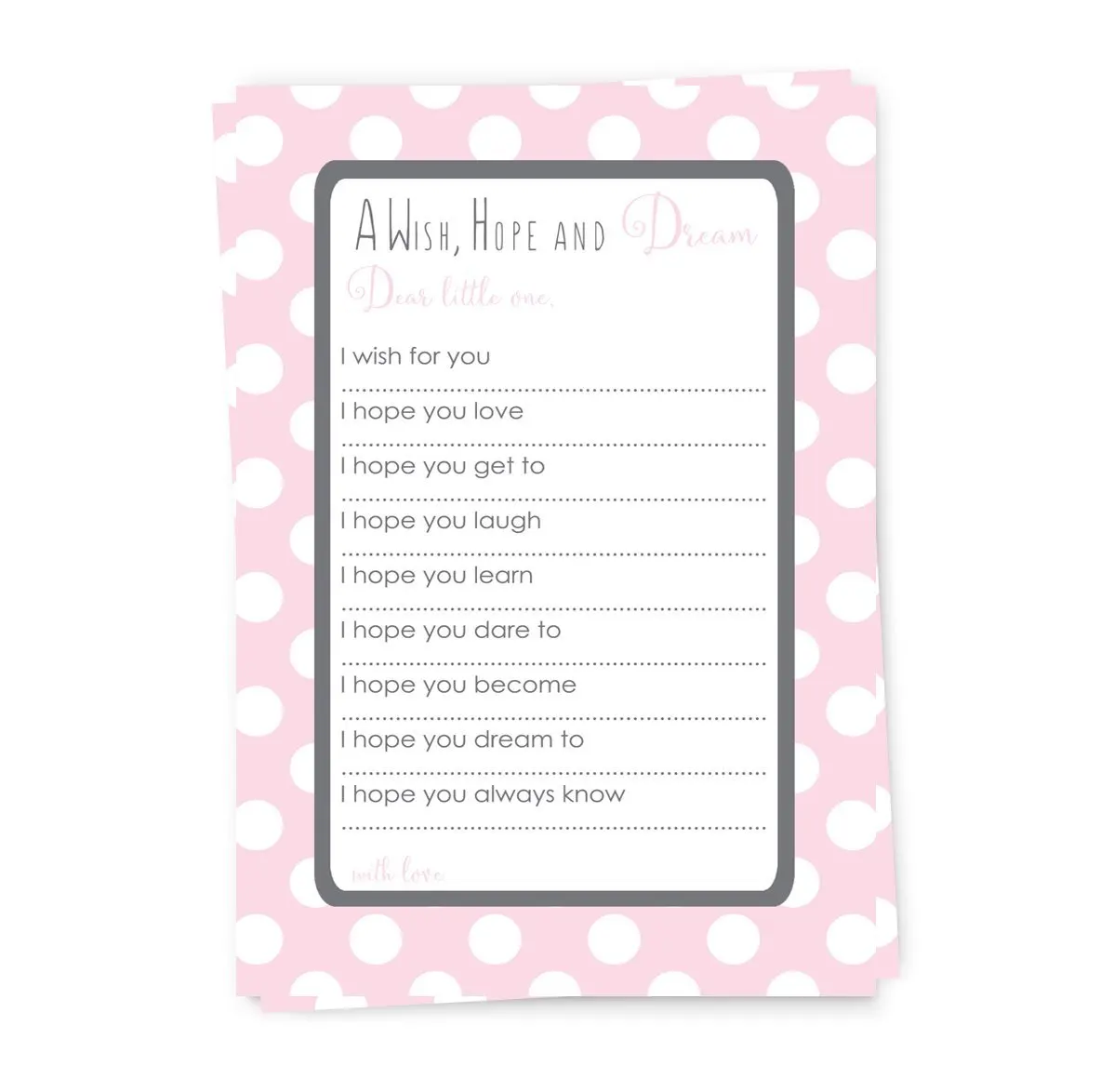 Pink Wishes for Baby Girl Shower Game Advice Cards Fill-In
9.99
Get Quotations
48 Rustic Kraft Wishes for Baby Cards – Well Wishes for Boy or Girl – Baby Wishes Cards
14.95
Get Quotations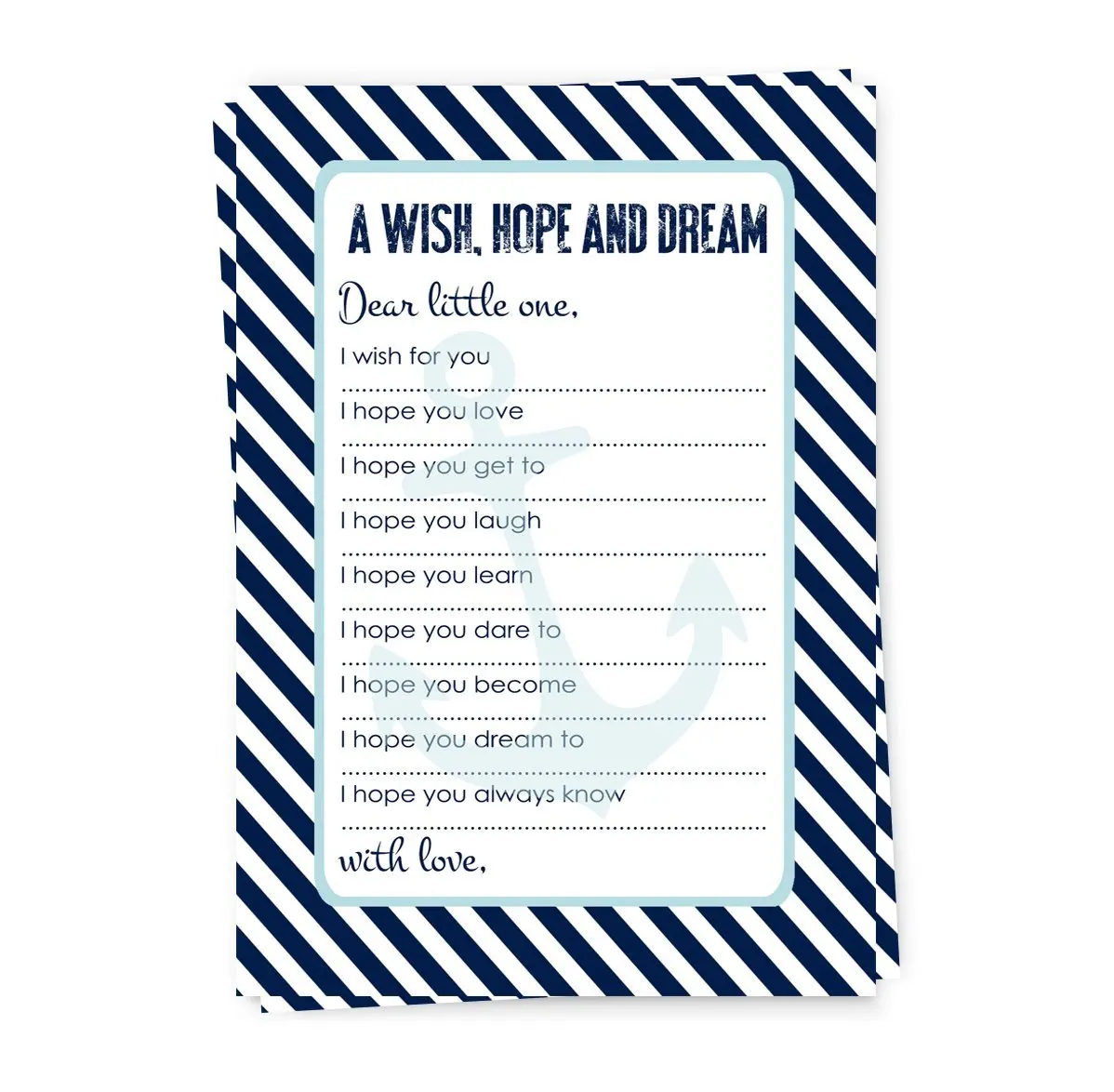 Nautical Wishes for Baby Shower Game Set 20pc. Navy Stripe & Mint Boys Newborn Advice Cards
9.99
Get Quotations
Bow Tie Wishes for Boys Baby Shower Games Set of 20 Cards Navy and Grey
9.99
Get Quotations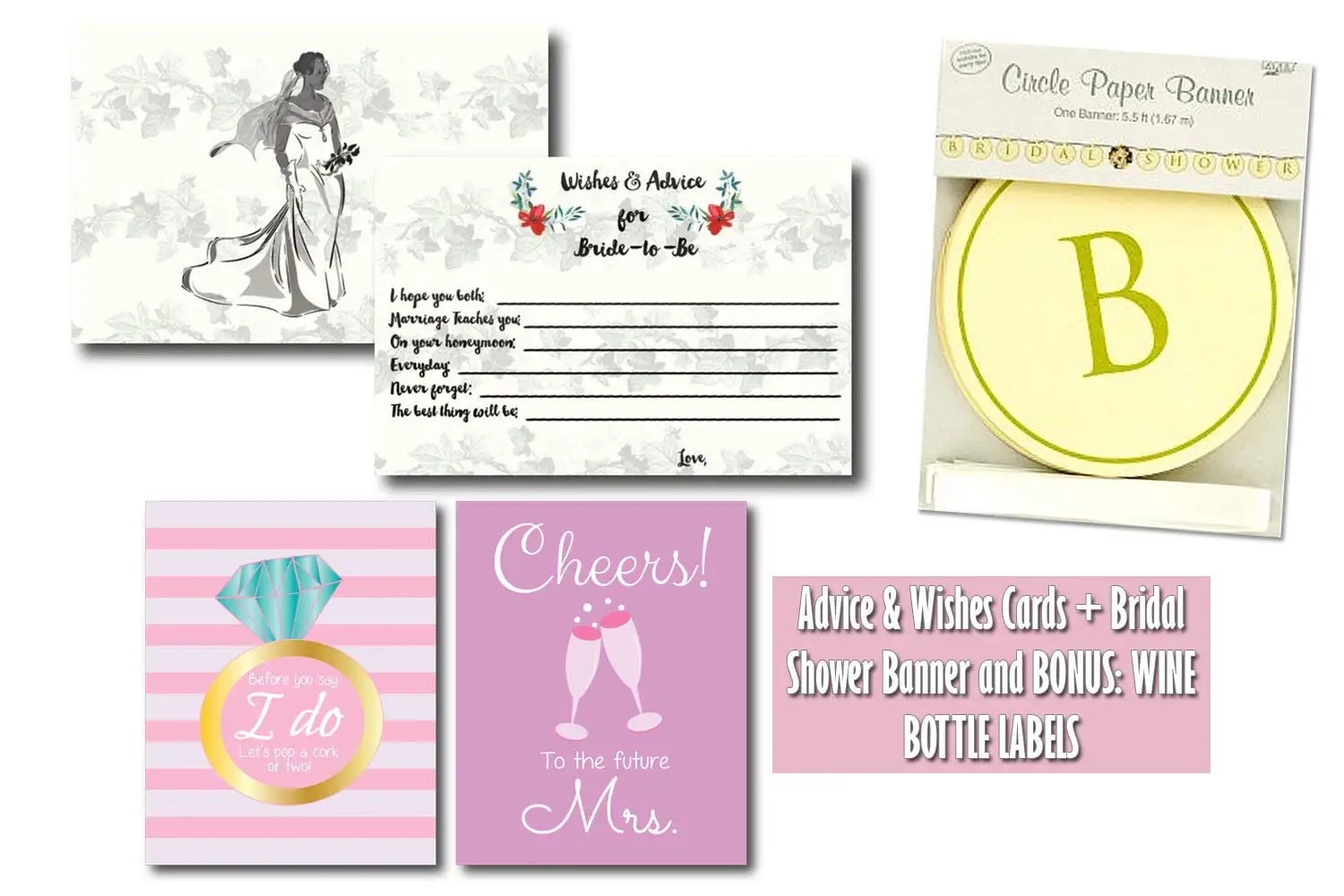 50 Bride to Be Advice and Wishes Cards with Bridal Shower Paper Banner, Bonus Bridal Shower Wine Bottle Labels, Bridal Shower GuestBook Alternative, Bachelorette Well Wishes Cards, Wedding (Black)
19.99
Get Quotations
D.I.Y. Wedding Wishes Heart Cards (Set of 300 Cards)
81.88
Get Quotations
Gartner Studios Wishes Cards, 24pk
$4.97
Get Quotations
Hortense B Hewitt 20783 Well Wishes Cards
$22.28
Get Quotations
4 Pack Bridal Shower Games 200 CARDS | More Likely To game (50 CARDS)| How Well Do You Know The Bride game (50 CARDS)| What's On Your Cell Phone (50)| Advice and Wishes - Bridal Shower Activities
32.99
Get Quotations
Holiday Greeting Cards - H1507. Greeting Cards with Warm Wishes and Snowflakes Design. Box Set Has 25 Greeting Cards and 26 White with Silver Foil Lined Envelopes.
21.95
Get Quotations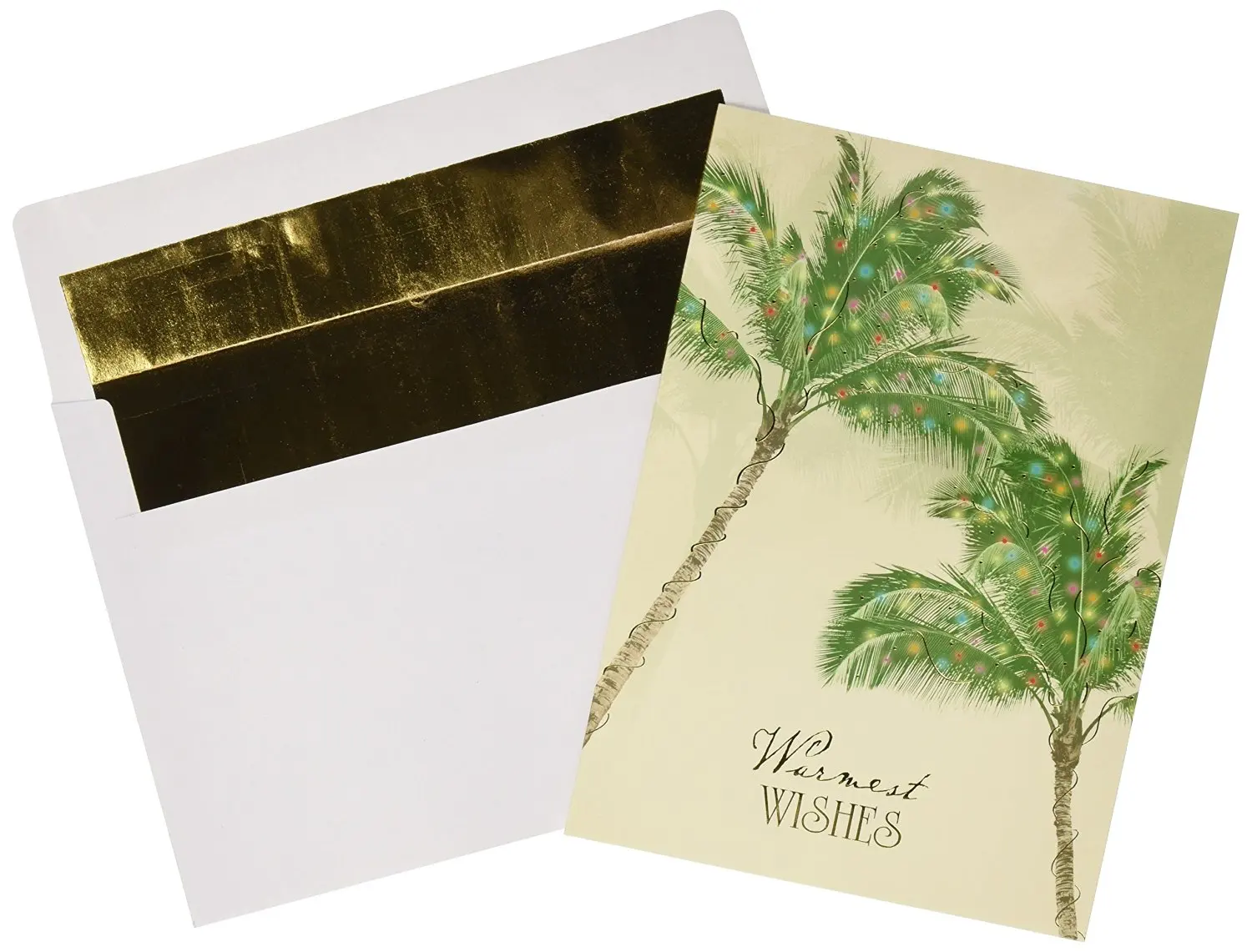 Masterpiece Studios Warmest Wishes Holiday Cards, Palm Trees, 18 Cards/18 Foil-Lined Envelopes
18.0
Get Quotations
Lillian Rose Woodland Baby Shower Wishes Cards, Neutral, 5.5" x 4.25"
14.91
Get Quotations
Fed up with finding suppliers? Try RFQ!

Request for Quotation

Get quotes for custom requests
Let the right suppliers find you
Close deal with one click
Kraft Rustic Advice Cards & Well Wishes | Bridal Shower Games, Wedding Reception, Baby Shower, Graduation | 4x6 inches (50 Count) by CaliRustic
13.99
Get Quotations
Baby Prediction Cards - Baby Forecast Cards - Baby Wish Cards - Baby Guest Book - Wishes for New Baby Cards - Baby Shower Games - Wishes for New mommy To Be Cards - Baby Chick Cards -
10.00
Get Quotations
3D greeting cards carved bride & bridegroom wedding cards with your best wishes 5 cards
19.99
Get Quotations
Lillian Rose Wishes Cards, 5.5-Inch by 4.25-Inch, Tan, Set of 48
$15.74
Get Quotations
Blue Floral - Share a Memory and Wishes Cards (50 Count)
10.25
Get Quotations
Coral Floral Share a Memory - Memories and Wishes Cards (50 Count)
11.99
Get Quotations
Baby Prediction Cards - Baby Forecast Cards - Baby Wish Cards - Baby Guest Book - Wishes for New Baby Cards - Baby Shower Games - Wishes for New mommy To Be Cards
10.00
Get Quotations
50 Floral Pink Advice Cards-Words of Wisdom-Marriage-Wedding Advice Cards-Bridal-Baby Shower Party Games-Guest Book Alternative-Note Card Retirement-Best Wishes for Mr and Mrs-Graduation Advice Cards
14.95
Get Quotations
Baby Prediction Cards - Baby Forecast Cards - Baby Wish Cards - Baby Guest Book - Wishes for New Baby Cards - Baby Shower Games - Wishes for New mommy To Be Cards
10.00
Get Quotations
Graduation Wishes and Advice Cards (50 Count)
10.99
Get Quotations
Assorted Handmade Congratulations Wishes for New Baby Cards Set 10 Pack Boxed Cards with KJV Scripture, Embellished with Paper Tip-ons, Ribbons, Buttons, Gemstones - Beautiful Bulk Assortment of Greeting Cards for Boy or Girl Birth & Shower Cards
10.49
Get Quotations
Masterpiece Studios Warmest Wishes Palm Trees Greetings, 18 Cards/Foil Lined Envelopes (844500)
18.00
Get Quotations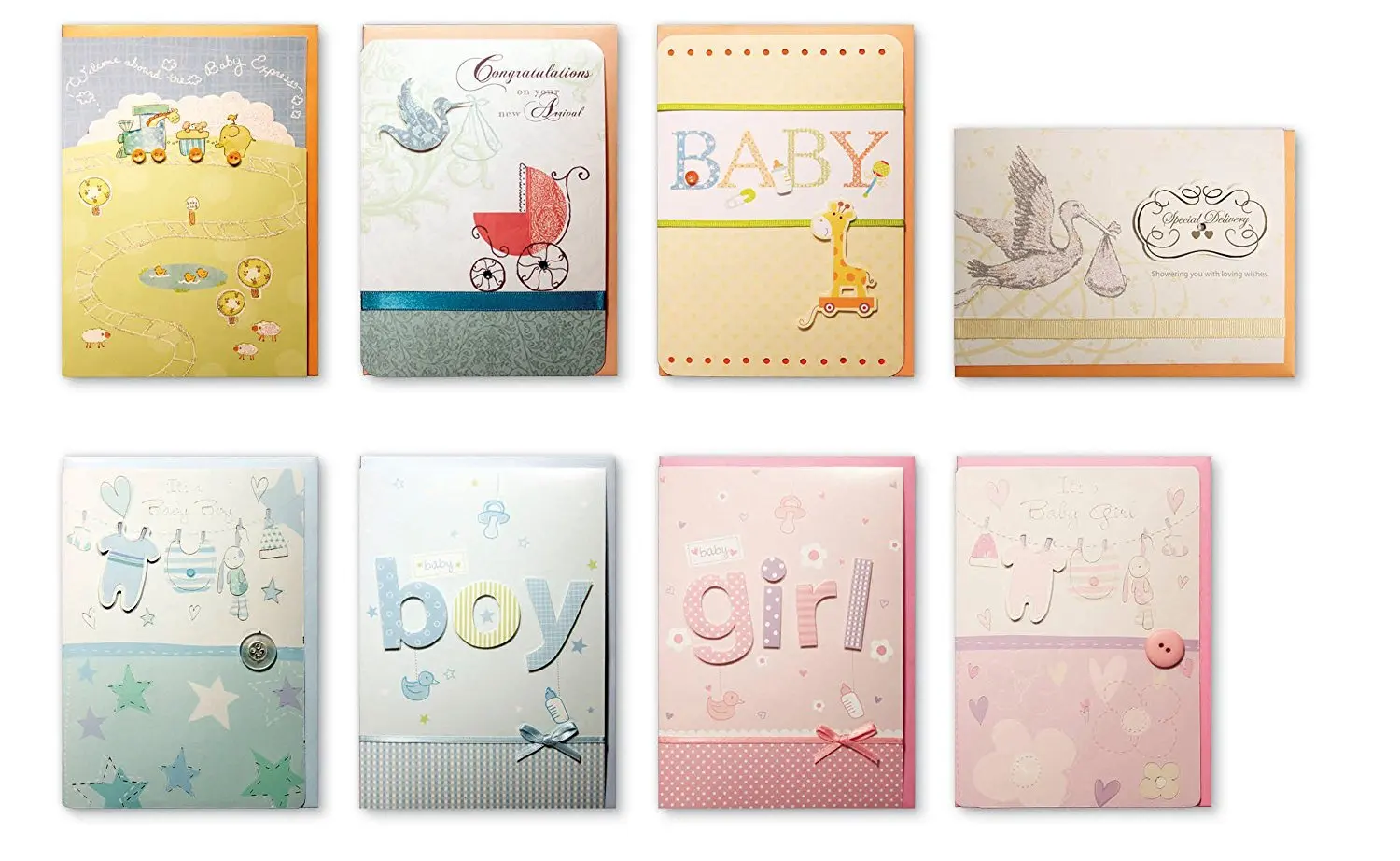 Assorted Congratulations Wishes for Baby Cards Box Set 8 Pack Handmade Embellished Assortment Greeting Cards for Boy or Girl Birth & Shower Card
15.97
Get Quotations
Advice and Wishes For The Bride and Groom Cards | By L & P Designs | Classic Look With A Dark Blue Background | Wedding Guest Book Alternative | 50 Card Set
10.99
Get Quotations
Masterpiece Studios Warmest Wishes Shell Baubles Greetings, 18 Cards/Foil Lined Envelopes (873800)
18.00
Get Quotations
Advice and Wishes For Any Special Occasion | Cards by L & P Designs | Classic Look With A Dark Blue Background | Guest Book Alternative | 50 Card Set
10.99
Get Quotations
Masterpiece Studios Warmest Wishes Beach Penguin Greetings, 18 Cards/Foil Lined Envelopes (855900)
17.88
Get Quotations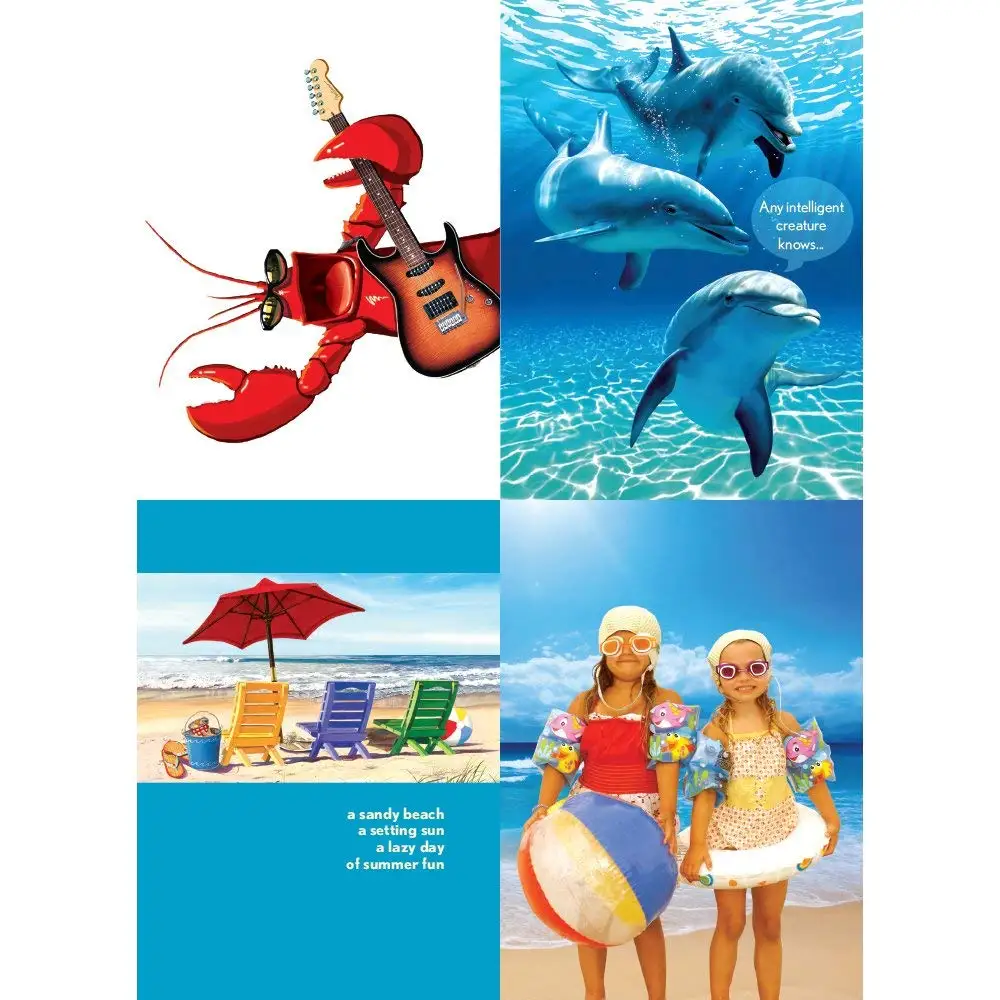 Tree-Free Greetings Happy Beach Birthday Wishes Card Assortment, 5 x 7 Inches, 8 Cards and Envelopes per Set (GA31590)
10.0
Get Quotations
You may also be interested in: