Omega 3 Fish Oil 2,600mg Maximum Strength Pills With Lemon Oil For No Fish Burps or Aftertaste 650mg DHA + 860mg EPA Molecularly Distilled Triglycerides & Best Fatty Acid Supplements - 90 Capsules
19.95
Get Quotations
Health Supplement Blackmores 200 pack capsules odourless Fish Oil 1000 omega3 DHA, EPA fatty acids
41.99
Get Quotations
Biogrow Orange Flavour Fish Oil 60 soft capsules.(Wealthytrade)
39.89
Get Quotations
Omega 3 Fish Oil Pills - Triple Strength Fish Oil Supplements: 90 Softgels, 1,400mg Omega 3 Fatty Acids: 600mg DHA + 800 mg EPA - Burpless Capsules With Pharmaceutical Grade Essential Fatty Acids - Enteric Coating - Ranked #1 For: Best Fish Oil Supplement
$15.57
Get Quotations
Best Omega 3 Fish Oil Pills 180 Capsules. Pharmaceutical Grade Essential Fatty Acids - Molecularly Distilled Fish Oil Supplements.
22.99
Get Quotations
Krill Oil Capsules 500mg 180 Antarctic Krill Oil Capsules in Marine Fish Gelatine Caps (2 capsules = 1000mg) - Omega 3 EPA DHA Astaxanthin - PINK SUN
£50.50
Get Quotations
Natures Aid Fish Oil 1000mg (with Vitamin E) , 180 Capsules
22.10
Get Quotations
Benson's Best Omega-3 Fish Oil for Dogs - 100% Pure and Natural Pet Food Supplement! 180 Softgel Capsules = No Mess, No Fuss!
27.75
Get Quotations
Fish Oil Omega 3 Capsules 1500mg -Liquid Pills With EPA DHA Vitamin Supplements Benefits-Best Omega-3 Fatty Acids vitamin Softgel Heart Health Nutrition-Dietary Nutritional Supplement-Antioxidants-100% Money Back GUARANTEED!Made in USA(120 Softgels)
24.95
Get Quotations
OxyLife Omega-3 Fish/Flax Oil w/ EPA/DHA (120 Capsules)
21.99
Get Quotations
Nutrafx Fish Oil Omega 3 Softgel 2400mg. Fish Oil 1200mg. Omega 3 180 Count - Fatty Acids Odorless Coated Capsules
16.99
Get Quotations
Simplalite Fish Oil Omega 3 (60 Capsules) Comes with 100% Free Ebook - Supports Healthy Heart, Brain, Joints, Vision and Skin - Boosts Immune System with No Side Effects! Live Longer and Healthier!
19.95
Get Quotations
Fed up with finding suppliers? Try RFQ!

Request for Quotation

Get quotes for custom requests
Let the right suppliers find you
Close deal with one click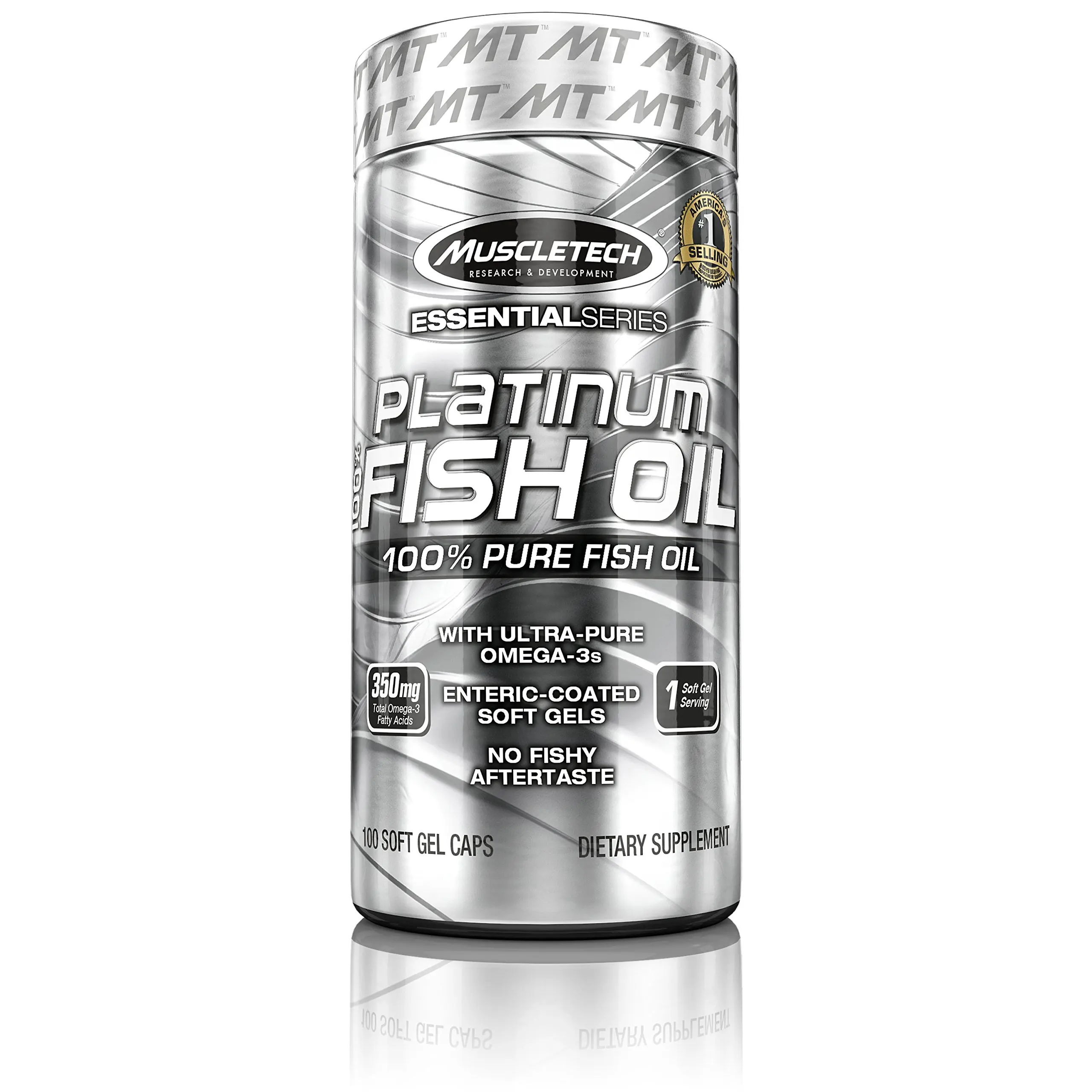 MuscleTech Platinum Fish Oil, 350MG mg Omega 3 Fish Oil Capsules, 100 Softgels
10.99
Get Quotations
Mega we care Fish Oil 1000 mg 100 capsules.
36.49
Get Quotations
Nutra Sea Fish Oil (240 Capsules) (Fish Body oil for Omega 3s) NutraSea Herring oil by Ascenta Brand: Ascenta Health
44.84
Get Quotations
Bio Island Cod Liver + Fish Oil 90 Capsules
29.92
Get Quotations
Mega we care Fish Oil 1000 mg 100 capsules.
29.99
Get Quotations
Omega 3 Fish Oil Pills (180 Counts) - Triple Strength Fish Oil Supplement (1 400mg Omega 3 Fatty Acids: 600mg DHA + 800 mg EPA per Serving) - Burpless Capsules with Enteric Coating And Pharmaceutical Grade Essential Fatty Acids - Molecularly Distilled Fis
$27.97
Get Quotations
Blackmores Fish Oil 1000mg 200 capsules. [Get Free Herbal lozenges]
66.47
Get Quotations
PharmAssure Fish Oil, Enteric Coated, 1000 mg, 60 softgel capsules
14.99
Get Quotations
Vital Nutrients 180 EPA/120 DHA, Ultra-Pure Fish Oil 200 Capsules - Lemon flavor
41.00
Get Quotations
Omega 3 Fish Oil Pills (180 Counts) - Triple Strength Fish Oil Supplement (1 400mg Omega 3 Fatty Acids: 600mg DHA + 800 mg EPA per Serving) - Burpless Capsules with Enteric Coating And Pharmaceutical Grade Essential Fatty Acids - Molecularly Distilled Fish Oil Supplements Including Best Health Bonus
$28.97
Get Quotations
Vital Nutrients - 360 EPA/240 DHA, Ultra-Pure Fish Oil 700, 120 Softgel Capsules, Lemon Flavor
43.90
Get Quotations
Fish Oil Omega 3 Capsules 1500mg -Liquid Pills With EPA DHA Vitamin Supplements- Weight Loss Benefits-Best Omega-3 Fatty Acids vitamin Softgel Heart Health Nutrition-Dietary Nutritional Supplement-Antioxidants-100%Money Back GUARANTEED!Made in USA
14.95
Get Quotations
Pharmax High DHA Finest Fish Oil Essential Oil of Orange 90 capsules
39.50
Get Quotations
Maxi-Omega-3 concentrate Certified Kosher Fish Oil 180-Capsules
$44.52
Get Quotations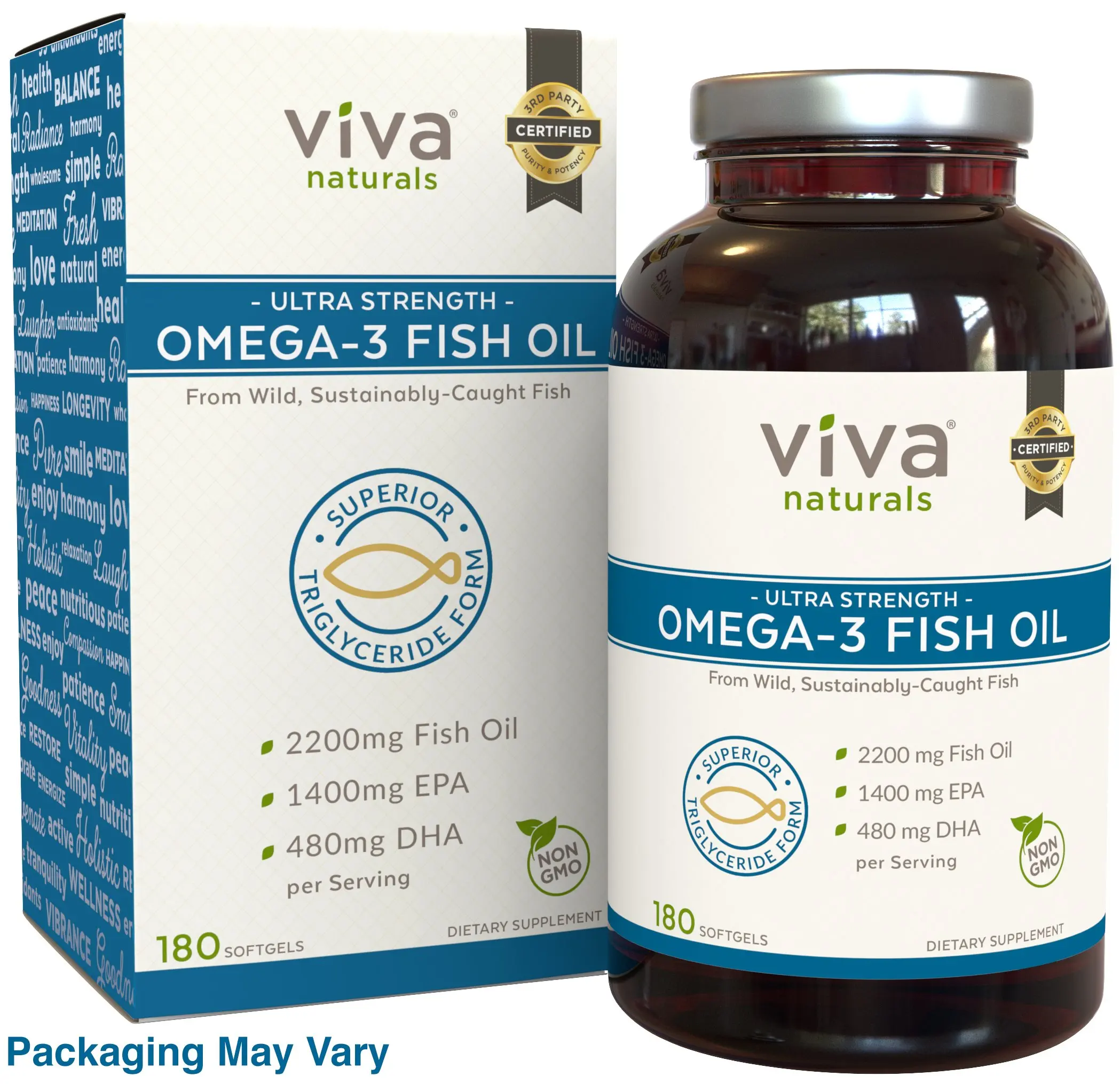 Viva Naturals Omega 3 Fish Oil Supplement, 180 Capsules - Highly Concentrated Fish Oil Omega 3 Pills, Burpless, 2,200mg Fish Oil/serving (1400mg of EPA & 480 mg of DHA)
37.86
Get Quotations
Omega-3 Fish Oil Capsules - Double Strength Omega-3 Fish Oil, 1400 mg, 180 Softgels - The GOLD Standard, IFOS 5-Star Certified Fish Oil Omega-3 Supplement In Highly Absorbable Triglyceride Form
50.12
Get Quotations
Ausway Fish Oil 1000mg Omega3 with Salmon Fish Oil 100 Capsules
49.95
Get Quotations
Mega We Care - Fish Oil [ Omega 3 ] - 1000 mg / 100 Capsules
42.00
Get Quotations
You may also be interested in: