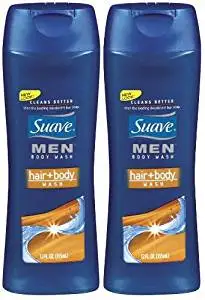 Suave Men Body Wash - Hair & Body 2 in 1 - 12 oz - 2 pk
12.49
Get Quotations
Original Sprout Hair and Body Baby Wash (12 oz) - Gentle Smoothing and Hydrating Formula; Safe Shampoo and Body Wash for Babies and Children with Extra Shine Enhancing and Tear Free Formula
$15.99
Get Quotations
Logistics Invigorating Rush Hair & Body Wash 355ml Anthony
£23.35
Get Quotations
Bath Body Works Noir for Men 10.0 oz 2 in 1 Hair Body Wash
$11.99
Get Quotations
Bath Body Works Paris for Men 10.0 oz 2 in 1 Hair Body Wash
11.35
Get Quotations
Bath Body Works Dark Amber for Men 10.0 oz 2 in 1 Hair Body Wash
$5.75
Get Quotations
Bath Body Works Twilight Woods for Men 10 oz 2 in 1 Hair Body Wash
$12.59
Get Quotations
Dial for Men Ultimate Clean Hair + Body Wash, 32 fl oz
$6.47
Get Quotations
Yves Rocher Retropical Hair & Body Wash 200 Ml
null
Get Quotations
Suave For for Men Body Wash Hair + Body 355 ml Body Wash
£3.19
Get Quotations
Gojo Luxury Foam Hair & Body Wash GOJ516303EA
$27.56
Get Quotations
Gojo Luxury Foam Hair & Body Wash GOJ516303CT
$69.98
Get Quotations
Fed up with finding suppliers? Try RFQ!

Request for Quotation

Get quotes for custom requests
Let the right suppliers find you
Close deal with one click
Yves Rocher Lagoon Hair & Body Wash 5.0 Fl.oz./150ml
10.48
Get Quotations
Nivea For Men 3 In 1 Hair Face & Body Wash 16.9 oz
$3.97
Get Quotations
Sukesha Extra Body Hair Wash 25 oz
38.46
Get Quotations
Nivea For Men Energy Hair and Body Wash, 16.9-Ounce Bottle (Pack of 3)
$14.97
Get Quotations
Sukesha Extra Body Hair Wash Duo Set 25 fl. oz & 12 fl. oz.
52.98
Get Quotations
Suave Men Hair & Body Wash 12 oz
$1.88
Get Quotations
Irish Spring Gear Advanced Performance 3 in 1 Speed Clean Body + Hair + Face Wash, 15 fl oz
$3.88
Get Quotations
Gibs Man Wash BHB Beard Hair & Body Wash - 33.8oz LITER
38.0
Get Quotations
MenScience Daily Body and Hair Kit: Body Wash, Exfoliating Gloves, & Shampoo
£55.00
Get Quotations
Mustela Bebe Range 2 in 1 Hair & Body Wash - 6.7 fl oz - 2 pk
19.55
Get Quotations
sulfate free shampoo all natural hair and body wash - Fresh Breeze by Clay Terra - nothing like it out there you will have to try it and feel what a healthy shampoo and body wash feels like!
$13.95
Get Quotations
Irish Spring Signature For Men 3-in-1 Body + Hair + Face Wash, 15 fl oz
$3.97
Get Quotations
Cocoon Baby Body & Hair Wash
8.99
Get Quotations
Complete Total Body Wash and Hair Shampoo With Conditioner... $13.95
$13.95
Get Quotations
Old Spice High Endurance Conditioning Hair and Body Wash - 18 oz
$12.10
Get Quotations
Optimum Amla Legend Body Filler Hair Wash Shampoo 13.5 fl oz
$6.27
Get Quotations
Gojo Gojo - Luxury Foam Hair & Body Wash Gojo Luxury Foam Hair &Body Wash 2 Ml Refill: 315-5263-02 - gojo luxury foam hair &body wash 2 ml refill
$65.99
Get Quotations
Lot of 5 Avon Blue Rush for Men Hair and Body Wash 5 fl oz each- Discontinued (Blue Rush)
null
Get Quotations
You may also be interested in: