Power A Nintendo DS Universal Accessory Kit (Nintendo DS)
$7.65
Get Quotations
Power A Pokemon X/Y Bonus Accessory Kit (Nintendo DS)
$3.42
Get Quotations
Canon DSLR Accessory Kit + Spare LP E6 for Canon Battery + Travel Charger - For Canon DSLR 5D Mark II, 5D Mark III, 5DS, 5DS R, 6D, 7D, 7D Mark II, 60D, and 70D
24.99
Get Quotations
Canon DSLR Accessory Kit + Spare LP E6 for Canon Battery + Travel Charger + 32 GB Transcend SD Cards For Canon DSLR 5D Mark II, 5D Mark III, 5DS, 5DS R, 6D, 7D, 7D Mark II, 60D, and 70D
39.99
Get Quotations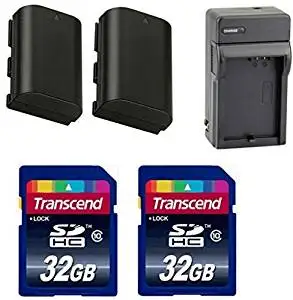 Canon DSLR Accessory Kit + 2 Spare LP E6 for Canon Battery + Travel Charger + 2 32 GB Transcend SD Memory Cards - For Canon DSLR 5D Mark II, 5D Mark III, 5DS, 5DS R, 6D, 7D, 7D Mark II, 60D, and 70D
59.99
Get Quotations
Sony ACCFH70 Accessory Kit w/NPFH70 Battery & LCS-VA30 Case for most Sony Camcorders
89.95
Get Quotations
Canon DSLR Accessory Kit + 2 Spare LP E6 for Canon Battery + 2 32GB Transcend SD Cards + Battery Grip - For Canon DSLR 5D Mark II, 5D Mark III, 5DS, 5DS R, 6D, 7D, 7D Mark II, 60D, and 70D
79.99
Get Quotations
AWASA 5 IN 1 TPU clear case + Set of Screen Protector For 3DS XL+5-Pack Retactable 3DS XL+28 in 1 3DS Game card case+ USB charging cable for 3DS XL Accessory kit 3DS XL Tpu case Not for New 3DS XL
7.9
Get Quotations
Shoplet Best Value Kit - Vtech Two-Line Cordless Accessory Handset for DS6151...
$88.45
Get Quotations
20 piece Nintendo 3DS DSi XL DS Travel Accessory Kit NE
US $14.99
Get Quotations
Canon EOS-5DS / EOS-5DSR Accessory Bundle - Includes Canon LP-E6 N Li-Ion Battery, LC-E6 Compact Battery Charger, Screen Protector, 64GB SDXC Memory Card, Cleaning Kit
149.99
Get Quotations
DS Lite 38 in 1 Super Accessory Bundle Kit
14.45
Get Quotations
Fed up with finding suppliers? Try RFQ!

Request for Quotation

Get quotes for custom requests
Let the right suppliers find you
Close deal with one click
Canon EOS 5DS R Digital Camera Accessory Kit includes: SDLPE6 Battery, SDM-1511 Charger
20.57
Get Quotations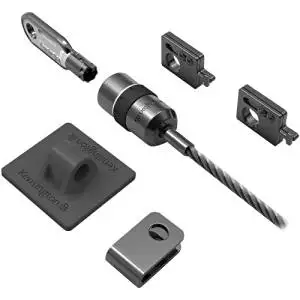 Kensington Computer Products Group - Kensington K64665us Computer Accessory Kit "Product Category: Kits/Miscellaneous Kits"
37.71
Get Quotations
Qualcraft 2602 Wind Hook Accessory Kit
58.24
Get Quotations
NEW Guitar Hero On Tour Accessory Kit for Nintendo DS Lite Video Game System DS
US $3.95
Get Quotations
Canon EOS 5DS Digital Camera Accessory Kit includes: SDLPE6 Battery, SDM-1511 Charger, SDC-27 Case
31.87
Get Quotations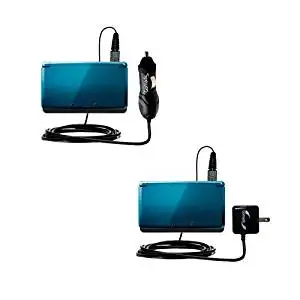 Essential Gomadic AC /DC Charge Accessory Bundle for the Nintendo 3DS. Kit includes the Gomadic Home and Car Chargers at a Money Saving Price. Based on TipExchange Technology
29.73
Get Quotations
Canon EOS 5DS Digital Camera Accessory Kit includes: SDLPE6 Battery, SDM-1511 Charger, HDMI6FM AV & HDMI Cable
28.29
Get Quotations
Panasonic NV-DS28 Camcorder Accessory Kit includes: DVTAPE Tape/ Media, SDCGRD08 Battery, SDM-125 Charger
21.68
Get Quotations
Cisco N2200-ACC-KIT= Nexus 2200 FEX Accessory Kit - N2200-ACC-KIT=
120.51
Get Quotations
Canon EOS 5DS R Digital Camera Accessory Kit includes: SDLPE6 Battery, SDM-1511 Charger, HDMI6FM AV & HDMI Cable
28.29
Get Quotations
Nintendo 2DS Red with Yoshi's New Island & Travel Accessory Kit
$149.99
Get Quotations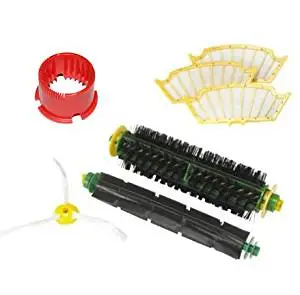 CIMC LLC For iRobot Roomba 500 Series Vacuum Cleaner Accessory Kit Accessory Kit-Includes 1 Beater Brush, 1 Bristle Brush, A Bristle Brush Cleaning Tool, 3 Filters, 1 Side Brushes, Replacement Kit
11.99
Get Quotations
Woody Accessory Kit Child Halloween Accessory
$19.99
Get Quotations
Ergotron Coiled Extension Cord Accessory Kit - Grey - 8 Ftcoiled - By "Ergotron" - Prod. Class: Computers And Portables/System Accessory
124.81
Get Quotations
NEW DS-Lite Guitar Hero On Tour GRIP + ACCESSORY KIT Set Stylus Pick Skin ban
US $4.95
Get Quotations
Adult Halloween Wig and Accessory Kit
$16.32
Get Quotations
For iRobot Roomba 500 Series Vacuum Cleaner Accessory Kit-Includes 1 Beater Brush 1 Bristle Brush A Bristle Brush Cleaning
US $18.99 / lot
Get Quotations
Celestron FirstScope Accessory Kit
$18.49
Get Quotations
You may also be interested in: