Inmarsat BGAN Prepaid SIM Card with 100 units (11 MB*), Valid for 24 Months By GTC
80.00
Get Quotations
Inmarsat BGAN Prepaid SIM Card with 250 units (27 MB*) valid for 24 months By GTC
190.00
Get Quotations
Inmarsat BGAN Prepaid SIM Card with 500 units (55.00MB*) valid for 24 Months By GTC
365.00
Get Quotations
Inmarsat BGAN Prepaid SIM Card with 50 units (5.50 MB*) valid for 24 Months By GTC
45.00
Get Quotations
Inmarsat BGAN Prepaid SIM Card with 25 units (2.75MB*) Valid for 24 months from Orbital Satcom
27.50
Get Quotations
Inmarsat BGAN Prepaid SIM Card with 25 units (2.75MB*) Valid for 24 months By GTC
30.00
Get Quotations
Orange Israel Prepaid MICRO Size SIM Card New & Activated ready for use with free incoming calls and SMS Including SIM Card Case Iphone Pin English user guide
24.00
Get Quotations
Orange Israel Prepaid MICRO Size SIM Card Preloaded With 200 Shekel Credit New & Activated ready for use with free incoming calls and SMS Including SIM Card Case Iphone Pin English user guide
80.49
Get Quotations
Cellcom Israel Prepaid MICRO Size SIM Card New & Activated ♦ ready for use with free incoming calls and SMS ♦ Including SIM Card Case ♦ Iphone Pin ♦ English user guide
22.00
Get Quotations
$60 T-Mobile Prepaid SIM Card Unlimited Talk, Text, & Web
$15.98
Get Quotations
$50 T-mobile Prepaid SIM Card Unlimited Talk Text and Web
$11.00
Get Quotations
Cellcom Israel Prepaid NANO Size SIM Card New & Activated ready for use with free incoming calls and SMS Including SIM Card Case Iphone Pin English user guide
22.00
Get Quotations
Fed up with finding suppliers? Try RFQ!

Request for Quotation

Get quotes for custom requests
Let the right suppliers find you
Close deal with one click
Pelephone Israel Prepaid DATA SIM Card Brand New & Activated ONLY FOR HIGH SPEED INTERNET ! Including SIM Card Case Iphone Pin English User Guide
20.00
Get Quotations
Cellcom Israel Prepaid Size SIM Card preloaded with 100 Shekel credit New & Activated ready for use with free incoming calls and SMS Including SIM Card Case Iphone Pin English user guide
55.00
Get Quotations
BlueCosmo Inmarsat IsatPhone 50 Unit Prepaid SIM Card for IsatPhone Pro and IsatPhone 2
49.00
Get Quotations
T-Mobile NANO SIM Card (CUSTOM CUT) with Prepaid Activation Kit
$6.69
Get Quotations
[For JAPAN] Prepaid Data SIM Card [15days] SIM Standard
$36.00
Get Quotations
AT&T SIM Card, Compatible with Prepaid (GoPhone) and Postpaid AT&T Cellular Service (Micro)
6.25
Get Quotations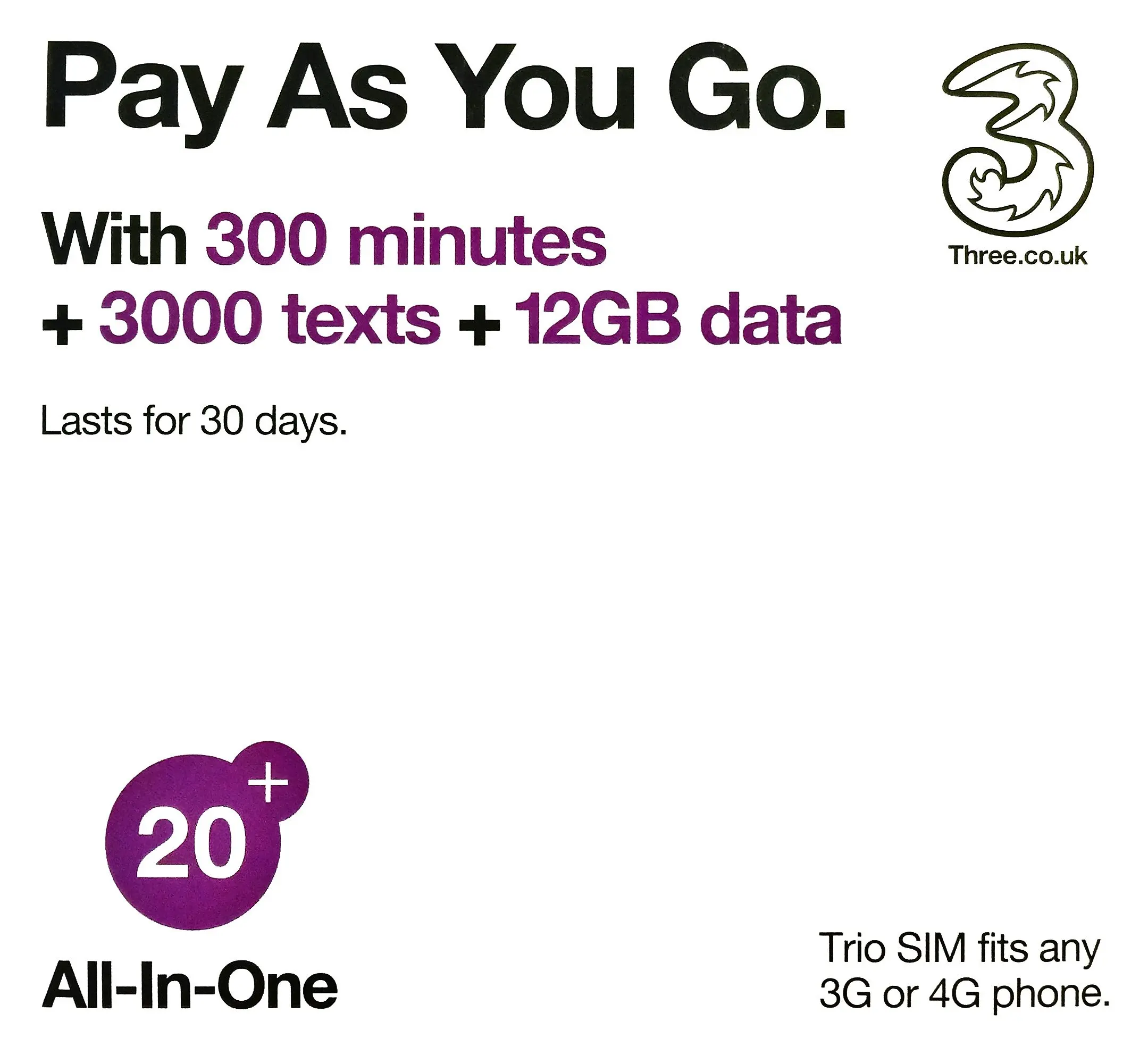 Europe (U.K.) prepaid sim with 42 countries - Three SIM Card with £20 Credit 300min+300texts+12GB data (Europe Prepaid Sim) 42 Destinations! 3 sim!
29.85
Get Quotations
At&t Prepaid Sim Card Att Go Phone Sim Card With Free Signal Booster -Minutes Not Included-
$3.75
Get Quotations
Simple Mobile Prepaid Sim Card $40 Monthly Service Prepaid
null
Get Quotations
T Mobile SIM Card: $33.33/Month Unlimited Talk, Text, 1 GB Data , NO Contract, Prepaid Plan
null
Get Quotations
Verizon Wireless prepaid activation kit with $40 plan universal nano size SIM card.
16.99
Get Quotations
AT&T Wireless 3G / 4G / LTE Micro SIM Card - Postpaid /Go Phone Prepaid - SKU 4681B Softcard SIM
5.00
Get Quotations
AT&T SIM Card, Compatible with Prepaid (GoPhone) and Postpaid AT&T Cellular Service (Nano)
6.95
Get Quotations
AlarmSIM Prepaid SIM Card for GSM Home Security Alarm System - AT&T Network
null
Get Quotations
Mas Movil ICC 700 Spanish Prepaid SIM Card - Unlocked Phone - No Warranty - Yellow
$41.68
Get Quotations
Telestial USA 4G Prepaid SIM Card with $10.00 & 50MB Credit
$19.99
Get Quotations
U.S.A Lyca Mobile Prepaid Sim Card $39 Unlimited Talk & Text Data
17.99
Get Quotations
Bell Canada Standard/Micro SIM Card w/ $25 Prepaid Credit
32.50
Get Quotations
You may also be interested in: