Samyang Ramen Spicy Hot Chicken Roasted Noodles Variety (12-Pack) | Hek Nuclear, Original, Cheese, Curry, Stew, Mala
32.95
Get Quotations
Samyang Ramen Spicy Hot Chicken Roasted Noodles Variety (10-Pack) | Hek Nuclear, Original, Cheese, Curry, Stew | & Nom Nom Box Chopsticks (10 Count)
25.97
Get Quotations
Samyang Hit Spicy Chicken Hot Ramen Noodle Buldak Variety 5 packs Nuclear, Original, Cheese Curry, Stew. Spicy Noodle Challenge! Top Korean Noodle Hit
12.95
Get Quotations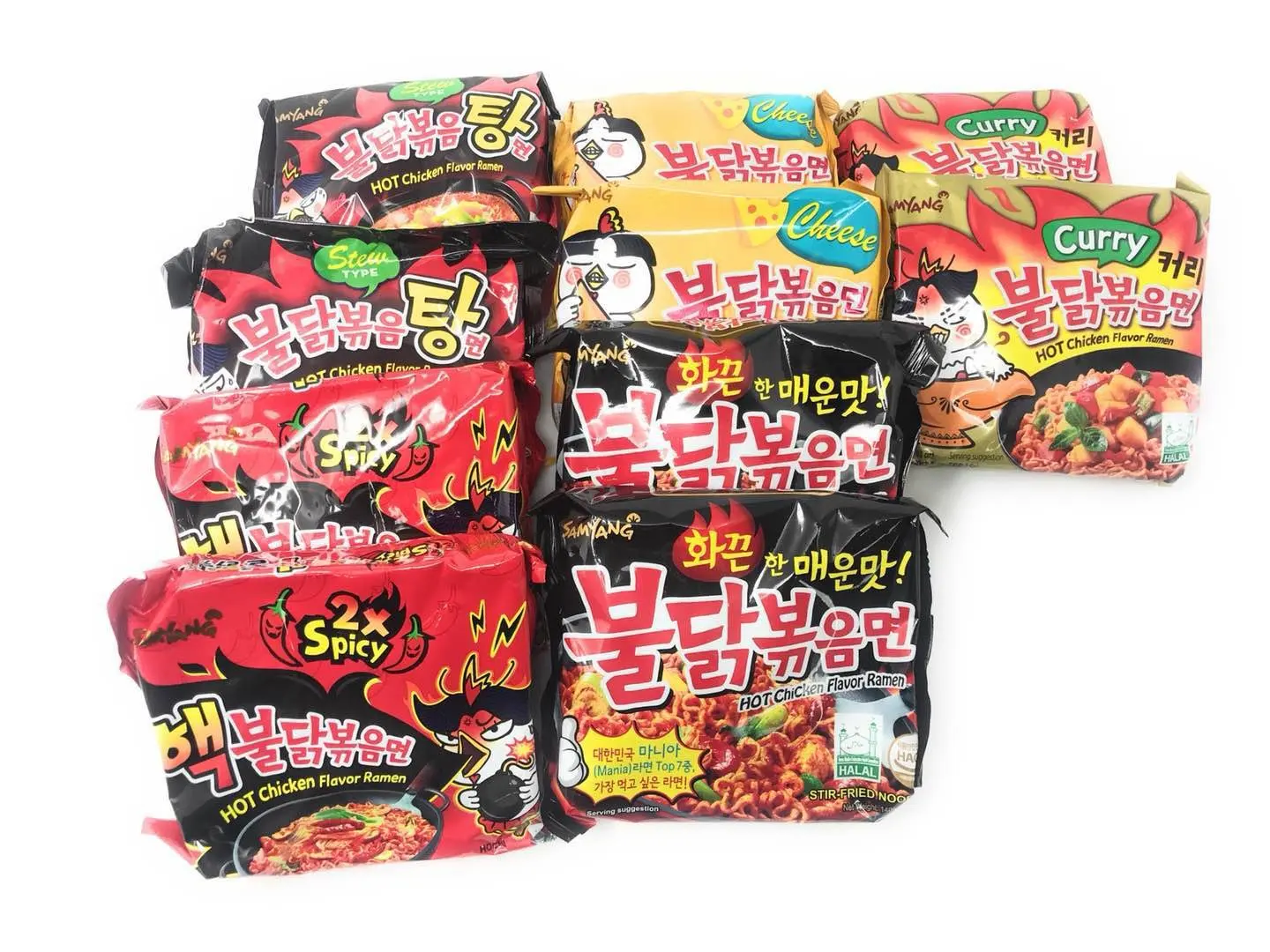 Samyang Hit Spicy Chicken Hot Ramen Noodle Buldak Variety 10 packs (2 each:Nuclear, Original, Cheese, Curry, Stew Type) Spicy Noodle Challenge, 2017 Top Korean Noodle Hit
20.99
Get Quotations
Pork Shank Professional Ramen Base (16.9 fluid ounce)
7.99
Get Quotations
"Hot & Spicy Ramen Combo" Shin Ramen(5) + Jin Ramen(Spicy) + Teumsae Ramen(5) + Namja Ramen(5)
37.09
Get Quotations
Samyang MALA 4x Buldak Bokeum Ramen. 5pcs. Spicy Hot Chicken Flavor Ramen,
9.32
Get Quotations
Nongshim Shin Ramen Korean Gourmet Spicy Tasty Noodle Soup Cup Ramen 4 Pack
9.99
Get Quotations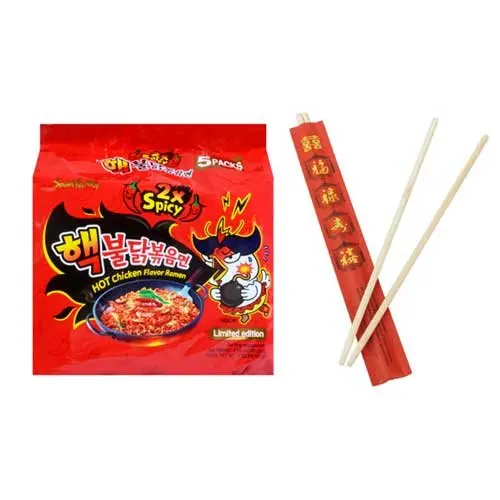 Samyang 2X Spicy Hot Chicken Flavor Ramen Spicy Noodles 5 pack with Chopsticks Bundle
11.97
Get Quotations
Marutai mustard pork ramen taste 98g ~ 12 pieces
27.69
Get Quotations
Fusion Select Samyang Spicy Chicken Ramen 2x Spicy & MALA Combo, Pack of 10
14.99
Get Quotations
Acecook Super Cup Instant Ramen Noodle Large Size, Pork Bone Soup, 4.2oz X 3 Bowls (for 3 Servings)[Japan Import]
$25.50
Get Quotations
Fed up with finding suppliers? Try RFQ!

Request for Quotation

Get quotes for custom requests
Let the right suppliers find you
Close deal with one click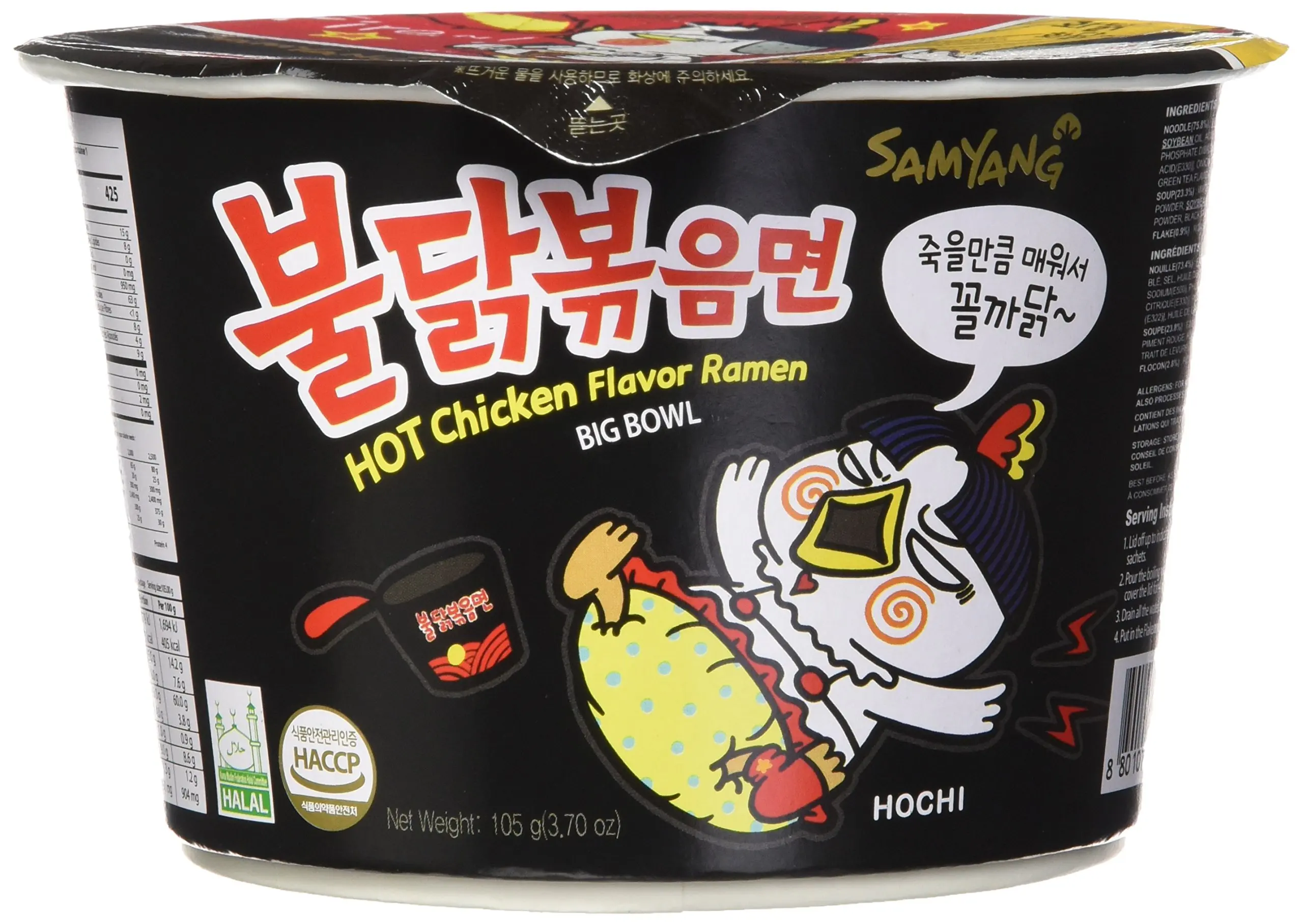 2 BIG Cups Spicy Chicken Roasted Cup Noodles, Spicy Chicken Cup Ramyun Korean Noodle Ramen BULDAK BOKKEUM MYUN (105g)
7.47
Get Quotations
Ottogi Ramen Bokki Cup Noodle 8 Pack of 4.23oz Spicy Ramen Soup and Tteokbokki Flavor
44.48
Get Quotations
Korean Hit Spicy Hot Ramen Variety 10 pack Samyang Spicy Chicken, Paldo + (4) Mixx Snack Boxx Chopstick
23.97
Get Quotations
Fujian zero food specialty gourmet snacks dried pork Wan City Hong spicy pork candied honey 100g pack
$1
Get Quotations
Rowdie Rib Spicy Pork Rib Sandwich, 5.5 Ounce -- 12 per case.
30.05
Get Quotations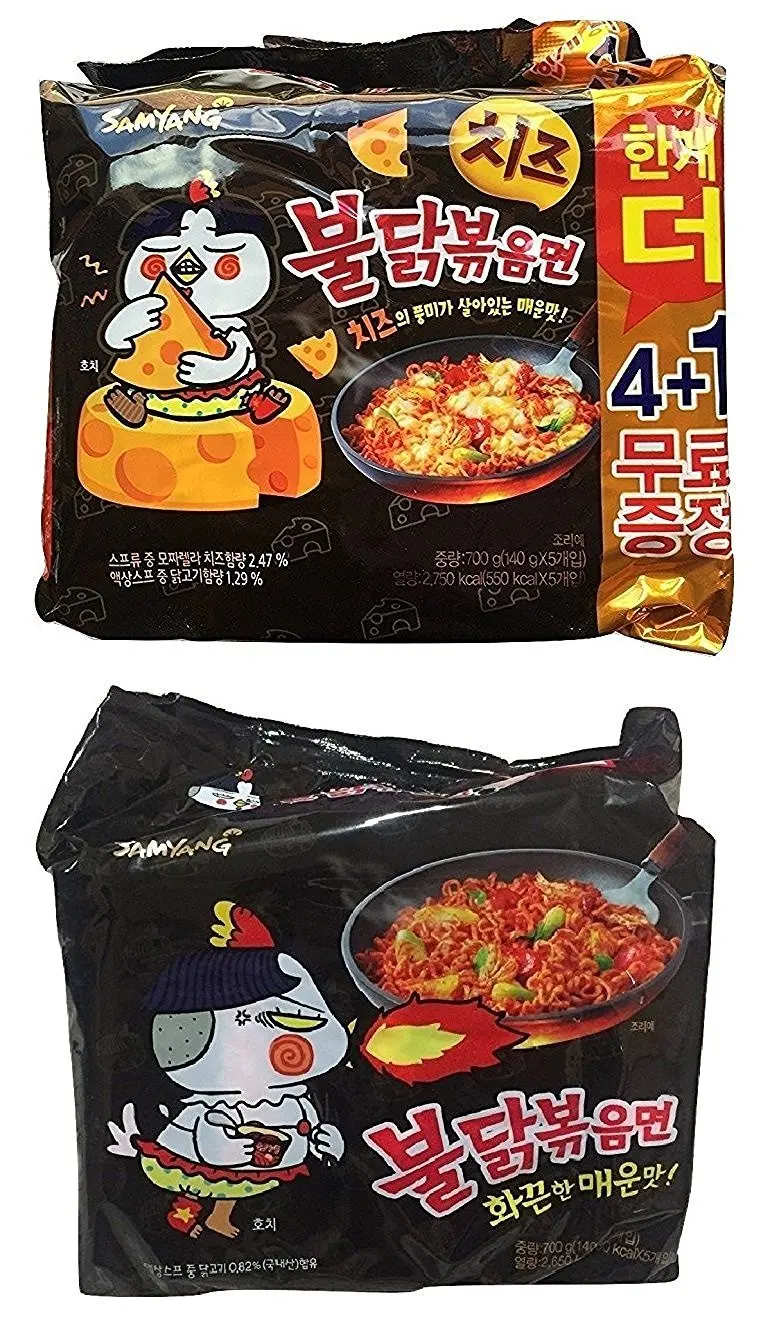 New Samyang Ramen / Spicy Chicken Roasted & Cheese Noodles Combo (10 Packs)
19.97
Get Quotations
Nissin Cup Ramen Noodle Soup, Very Veggie Spicy Chicken Flavor, 2.75 Ounce (Pack of 6)
11.99
Get Quotations
2016 New Samyang Ramen / Spicy Chicken Roasted Stir Buldak Noodles Cheese Flavor (Pack of 10)
19.9
Get Quotations
Samyang Stir-fried Noodles with Hot and Spicy Chicken Ramen HALAH 1 pack
4.83
Get Quotations
New Samyang Ramen / Spicy Chicken Roasted Noodles, 4.93 oz (Pack of 5)
9.0
Get Quotations
Paldo Bulnak Pan Noodle Irresistable Sweet Spicy Ramen (Pack of 4)
10.06
Get Quotations
Roland Ramen with Pork 3 oz (Pack of 30)
$16.00
Get Quotations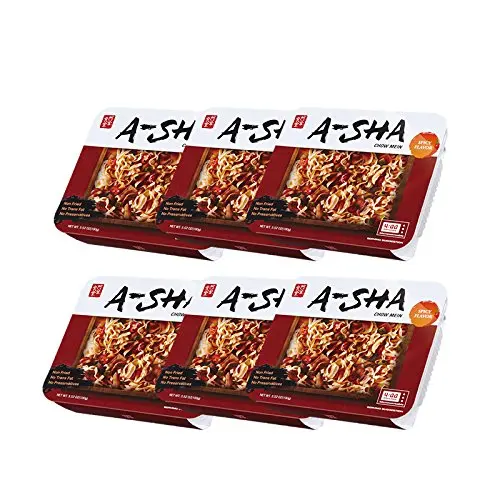 Asha instant ramen bowl (Spicy, 6 pack)
15.1
Get Quotations
Spicy Crab Miso Professional Ramen Base (500 ml)
7.99
Get Quotations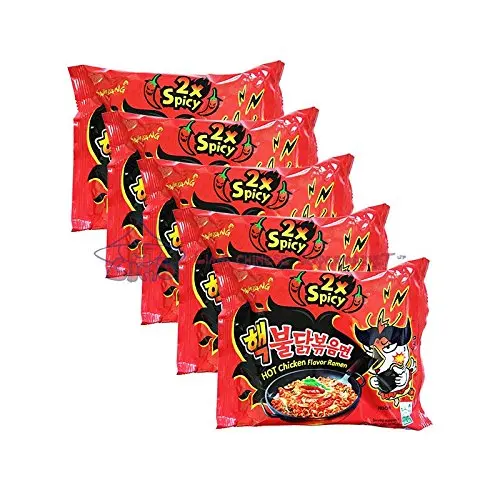 Samyang (5 Pack) 2x Spicy Hot Chicken Flavored Ramen
17.0
Get Quotations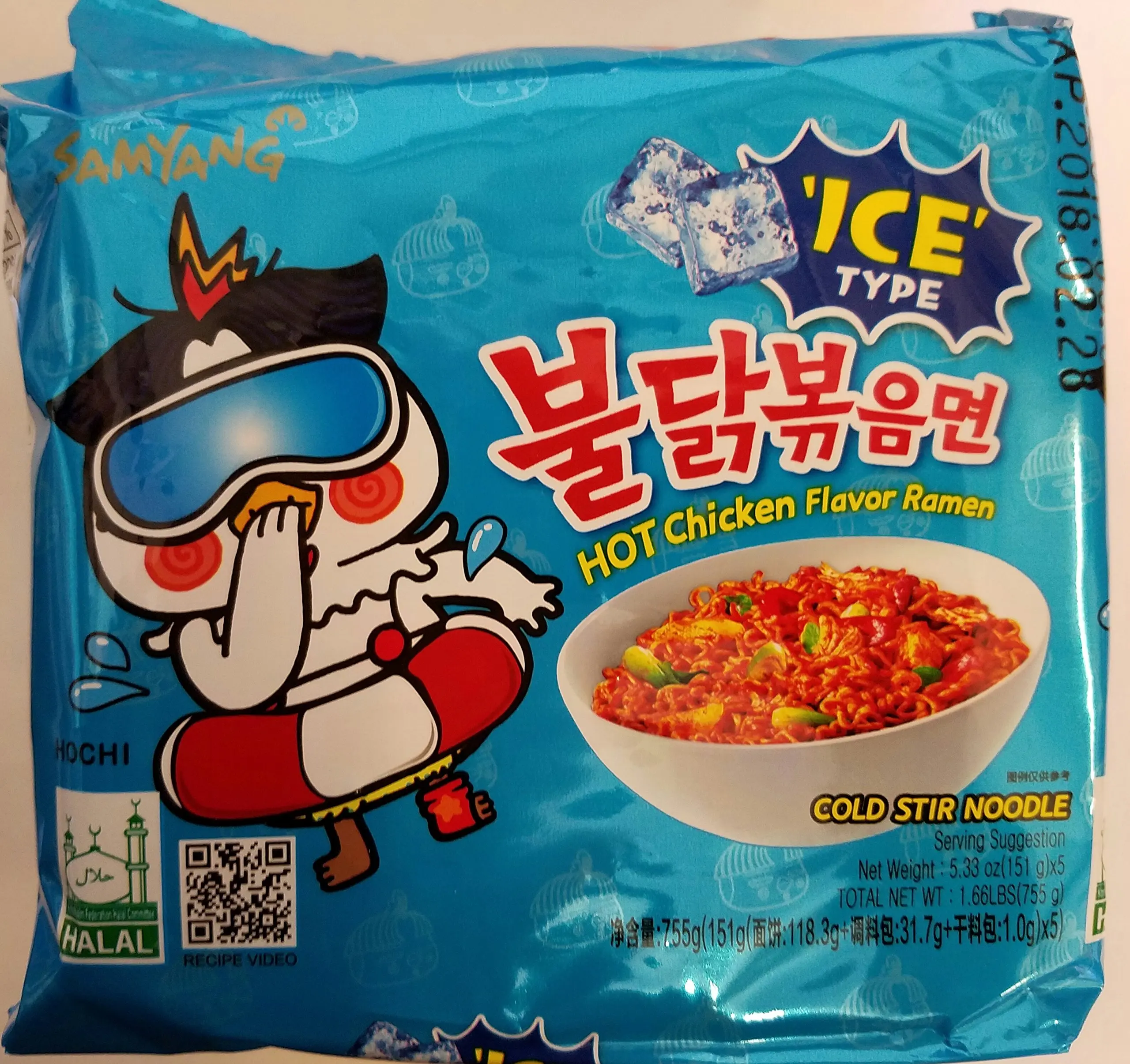 Samyang ICE Type Buldak Spicy Roasted Hot Chicken Ramen Cold Stir Noodle 5 Pack
12.99
Get Quotations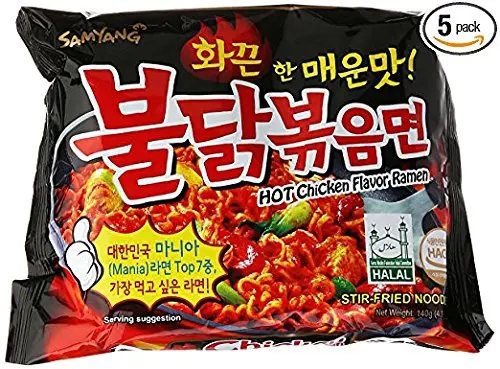 Samyang Spicy Chicken Roasted Ramen Noodles, 4.93 Oz (Pack of 5)
18.49
Get Quotations
Asha Healthy Ramen Noodles, wide size noodles (5 individual 95g pouches) (Spicy (Mala), 1 pack)
8.99
Get Quotations
You may also be interested in: